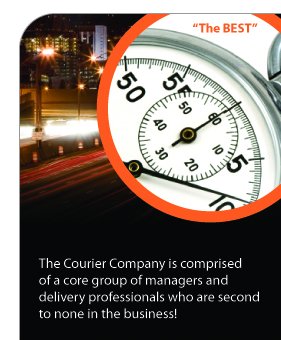 Mission Statement
Our goal is to become the leading messenger/courier service in the industry by providing our customers with professional, prompt & courteous service at an industry competitive rate. We promise to display the highest degree of integrity towards our customers and fellow employees.
About Us
The Courier Company was founded by Brian & Amy Mitchell. We have worked in the expedited delivery business for the past 12 years in Cincinnati. We bring with us a core group of managers and delivery professionals that are second to none in the business community.
There is a saying in the courier industry that you are only as good as your last delivery. Keeping that in mind, we strive to make each delivery a great experience for you. We appreciate the trust that you have placed in us for your delivery needs.